Follow Your Chakra Art, Yoga and Meditation Retreat
This is a one of a kind, one day art, yoga and meditation retreat in Priddis. You will learn the chakras through movement and creativity.
August 17, 2019
8:30am-4:30pm
You will experience a day of bliss, flow, creativity, movement and balance. You will be led through understanding your chakras from root to crown through yoga practice, meditation and intuitive expression through art. You will leave the retreat with a sense of balance through your inner being and a finished abstract alcohol ink art piece based on the chakras to remind you of your experience. Register here now!
What you will learn during this full day retreat:
* What are the chakras and where to find them

* How to create balance in the chakras through yoga, meditation, essential oils and more!

* How to use an understanding of the chakras to improve creativity

* How to use art making to access your 3rd Eye and Sacral Chakra

* How to create intuitively using meditation 

* How to use alcohol inks in a variety of ways to create an abstract painting to represent a chakra

* What yoga poses access the various chakras

* Why you might be feeling misaligned in your chakras and how to become aligned

* How to use essential oils to balance the chakras

Included in your investment:
* Certified yoga teacher, professional artist, reiki practitioner and chakra guide- Kristen Powell

* A printed chakra guide that aligns with the learnings and reflections from the day
* All art supplies including alcohol inks, gessoed art panel, paint brushes and other creative tools. 

* Completed chakra art piece you will create with Kristen's guidance 

* Coffee, tea, light snacks

* Nourishing hot vegan lunch 

* Supportive space in beautiful surroundings at the SpiritWood Retreat Centre in Priddis, AB

* Two yoga practices and one meditation 

* Props such as bolsters, blocks and blankets to support you during the yoga practices

* Head massage with essential oils during savasana or option for reiki scan

* Essential oils to try throughout the day

* Professional photography of your experience

* 8 hours of bliss, creativity, movement, flow and balancing your chakras 

* Bonus: Special chakra balancing gift for you and a friend if you register together! 

Tentative Schedule:
8:30-9 Welcome! Refreshments and settle in.
9-10:30- Introductions and opening yoga practice
10:30-11:00- Refreshment break
11:00-1:00 Chakra talk and art play
1:00-2pm- Lunch break (vegan)
2-2:30pm- Meditation
2:30-3:30pm Chakra talk and art play
3:30-4:30pm- Closing yoga practice, reiki and supported savasana
Please wear comfortable yoga clothing. Bring your own mat, and refillable water bottle. An art shirt or apron is recommended to protect your clothing. Come with an open mind and be prepared to open your chakras!
Investment into your wellbeing:
Early bird investment: $199 from June 1-30
Investment after June 30- $222
Location:
SpiritWood Retreat is located 20 minutes SW of Calgary, on the edge of the foothills. This versatile and spacious meeting space bordering on Priddis Creek combines with the quiet serenity of the land and provides a place to step outside the stress of modern city life. Step away from the hustle and bustle of downtown Calgary meeting rooms and convention halls and experience SpiritWood Retreat.
Ink n' Shine.
Alcohol ink and resin workshop.
Learn a variety of alcohol ink techniques and create an abstract masterpiece on board. Finish it off with a luxe, shiny coat of epoxy resin to make your artwork sparkle. Limited spots available!
Class fee includes alcohol ink, cradled board, resin and all other materials you need to create a masterpiece! Bonus discount is included of 20% off resin purchase of local Resinate Resin. https://www.resinate.ca .
Ticket
s start at $75.
To book a private workshop please email resonanceartstudio@gmail.com. Private workshops start at $750 for up to 10 people.
Drink n' Ink.
Alcohol Ink Workshop.
Class fee includes all supplies. Inks, Yupo Paper, paint brushes, and all other tools you need to make a masterpiece!
Learn the basics of painting with A
lcohol Inks. These inks are vibrant, versatile and best of all FUN! We will be creating an abstract landscape with the techniques you learn. Bring an apron or paint shirt. Wine and beer will be available.
Ticket
s start at $50.
To book a private workshop please email resonanceartstudio@gmail.com. Private workshops start at $500 for up to 10 people.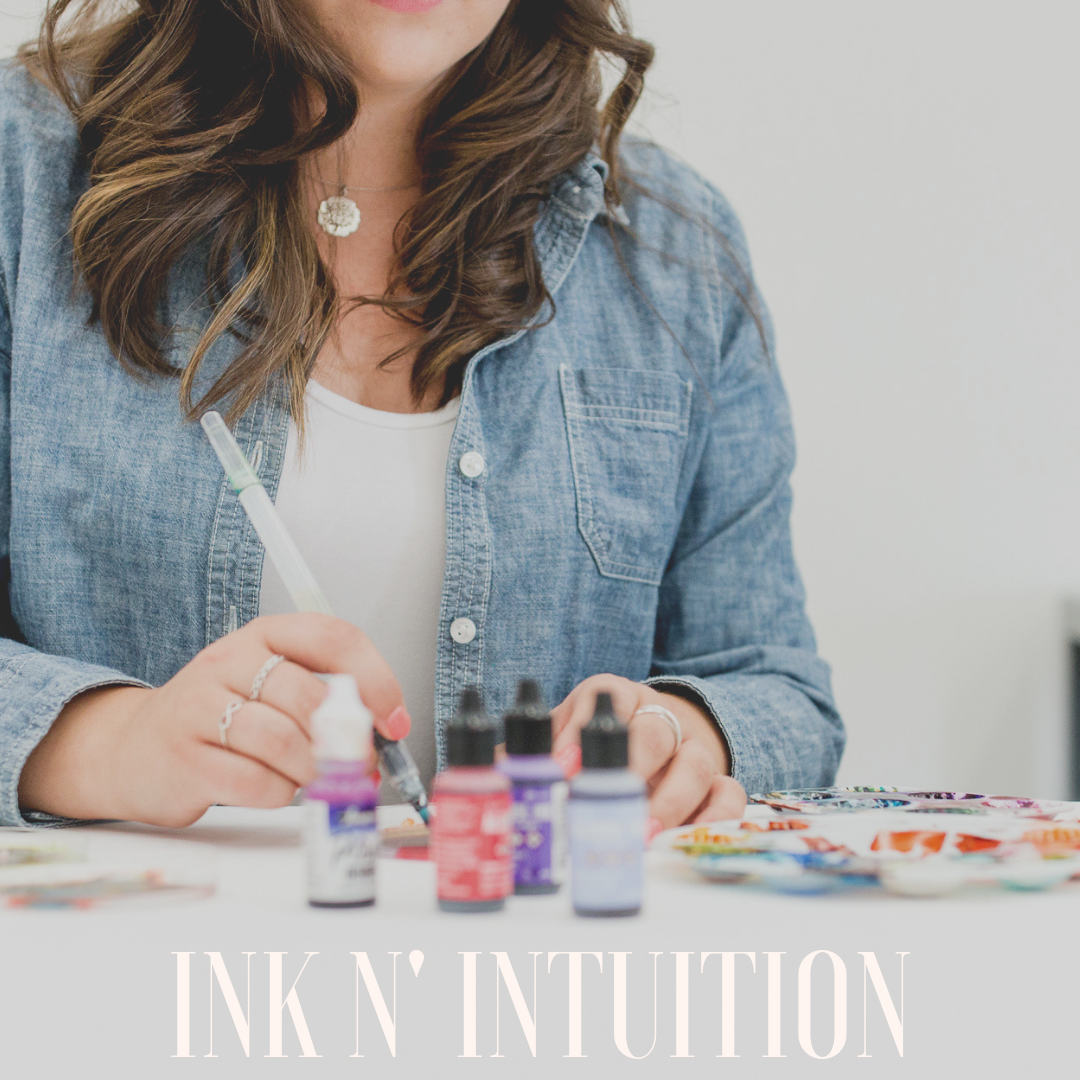 Ink n' Intuition.
Alcohol Ink and Meditation Workshop. Come and create from a place of intuition and flow. Alcohol inks will flow freely when your creativity is opened through a guided meditation. From this intuitive space you will create an abstract alcohol ink piece. You will learn basic alcohol ink techniques to create your one of a kind piece. Get ready to gain creative confidence through this 2 hour workshop. All supplies including ink, art surface, paint brushes, and other creative tools are included! Light refreshments will be served. Bring a paint shirt or apron to protect your clothes! Tickets start at $50.
Next workshop is on July 20! Register here.
To book a private workshop please email resonanceartstudio@gmail.com. Private workshops start at $500 for up to 10 people.
What people are saying
"Drink n' Ink Alcohol Ink Workshop was lots of fun. Kristen is a great, encouraging instructor." -Barb
"Had a great time! Very informative and fun to experiment with a new medium"-Danielle
"I had the pleasure of taking the Alcohol Ink and Shine class last night with Kristen Powell and would highly recommend it. Kristen gave us the instruction, demos and all supplies necessary to create a beautiful resin art piece. It's amazing how the resin makes the alcohol ink pop. I'll definitely try this technique at home. Thanks for the great class, Kristen!!" -Chris
"Very informative class that was a good value. Kristen was very personable and a great instructor. I really liked that we learned both the alcohol inks as well as resin so that they can be done separately for different projects." -Lisa
"Ink n' Shine Workshop last night was very informative and so much fun! Thanks for hosting it Kristen, look forward to the next workshop!" -Aydan
"Ink n' Shine workshop was very enjoyable. Kristen's instructions were clear and easy to follow." -Daniele
"The Drink n Ink coaster workshop was very fun and informative! Kristen is an excellent teacher and her passion came through in helping everyone unlock their creative potential." -Kelly
"Had a blast at the Ink n' Wine night with Resonance Art studio at Motion Gallery! Kristen is extremely knowledgeable and fun!" -Maite
"I loved my afternoon at the coaster Drink and Ink! Alcohol ink is so fun to work with, but was more difficult than I expected! With Kristen's help I was able to make artwork coasters that I love and will use daily! Kristen's passion and talent shines through in her teaching and artwork!" -Tamara
"I had so much fun with my Mom at Kristen's alcohol ink workshop! She's a pro and works with you to create the design you want, encouraging you along the way. Her calm demeanour and talent help you to create the image in your mind onto the medium you're working with! I can't wait to showcase my coasters on Instagram!" -Laura
"I took the Ink and Shine Resin workshop with Kristen Powell and would highly recommend it. All supplies, instruction and demos were included and I came out of the class with a beautiful resin art piece and the ability to try this at home. Great class!" -Christine
"Had a super fun time learning new art techniques at the Ink and Alcohol workshop at Motion Art Gallery. Instruction was clear and the workshop progressed at a great pace. Kristen was a fantastic and super helpful teacher! Can't wait to pick up my finished piece." -Nicole